If you're looking to change your nickname and aren't sure how to do it, read below to find out.
What nicknames are available?
Nicknames must contain at least three non-offensive characters and be unique. For example, if an active player has the nickname bob and you would like to purchase Bob, the system will prevent you from doing so. 
To find out if the name is free to purchase, paste the nickname you're after into the search box to find all accounts with variations of this name.
From the shop
Any member on FACEIT can purchase a name change from the shop for 1000 FACEIT points as many times as they have points available.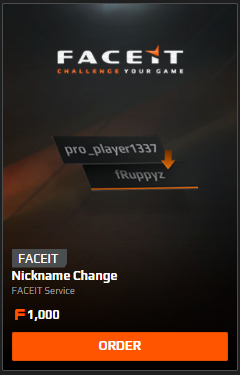 Upon clicking order you will be greeted with a screen to pick the name you'd like to use. Please ensure you type the name correctly! 
Points can be earned from playing in leagues, ladders, tournaments, or completing missions. 
Premium name change
Any player with a premium subscription can change their name for free once every three months via the account settings page. Game subscriptions or Hub subscriptions do not include this feature. 
Releasing a nickname
Players can contact us through a support ticket to release a username for their account if the following criteria are met.
The account has been inactive for two years and has no active bans

You have an active account with either a Premium subscription and have requested no other name releases in the previous three months or you have a game subscription with at least 1000 FACEIT points on your account

There must be no other

players with the same name with different capitalised letters who are active in the last two years. In the old system, players could have the same name with different capitalisations but this has since changed and all names must be unique.
Please note: Accounts found to have added no games within a span of 30 days since their creation will be categorised as 'inactive'. In such a scenario, we will release the account name upon receiving a request to do so.
We will not release any names for free players at this time. 
 If you still require help click below to contact us directly by email