Change my Nickname
Need an update to your name or want to reinvent yourself? 
Changing your nickname is very simple and can be done as often as you like! Simply head over to our shop from this link. As you can see it will only cost you 1000 FACEIT points!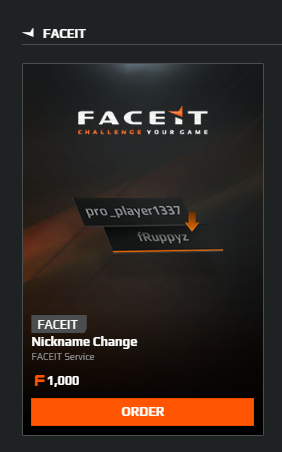 We must advise that creating a new account with a new name is not the way to go as you can not transfer your game account linked to your current FACEIT profile.
The best and most enjoyable way is to play and win points in our Daily ladders or in our cups or subscribe to our Leagues to win points. You can also invite ten friends for 100 FACEIT points each. Please let them know they must register an account and a game on our platform without navigating away in order for you to get your points from the invite.
You can also win points very easily by completing Missions! To learn more about Missions you can read our FAQ here. 
 If you still require help click below to contact us directly by email