What happens to my CS:GO account? 
When will Counter-Strike 2 be officially launched on FACEIT? Your profile, main stats and Elo will automatically be migrated to CS2 once CS2 is released. All you'll need to do is log in to your account or refresh your page. Some stats (total match count for example)  from CS:GO will remain visible on your profile, should you wish to see them.
Do I need to add CS2 as a game on FACEIT?
CS:GO will automatically be migrated to CS2 once CS2 is released. All you need to do is log in to your account. If you didn't have CS:GO, you can register CS2 as a new game.
What happens with my CS:GO stats?
At the CS2 launch, your main stats will be migrated and visible on your profile, whilst your Elo will be recalibrated depending on what it was in CS:GO respectively (please see our ELO faq for more information. In terms of mains stats, this relates to totals, such as total matches, total wins, total kills, longest win streak etc.
What happens to my Elo?
Over time FACEIT has seen Elo grow massively on the platform, this has caused Elo inflation which has meant level 10 players have a broader range in Elo, which can cause longer queue times and various other issues. To mitigate this we have introduced a soft reset, bringing players closer together with improved skill representation and reigniting the fire of competition that previously had become stale. If your Elo was high on FACEIT in CS:GO you will have been recalibrated in line with this release, however, you will not lose the achievement you had as we release commemorative badges in the future for this very reason. CS2 is a fresh game, a fresh start, so while you have lost some Elo your rank remains and now you can grind your way up for Challenger Rank too!
Does FACEIT Anti-Cheat work in CS2? 
Anti-cheat will continue to protect your experience on FACEIT with CS2 like CS:GO. If you have AC installed you will not need to do anything in addition to ensure it works in CS2.
Will joining CS2 games on FACEIT work the same way as in CS:GO?
Yes, you can join CS2 matches exactly the same as you did with CS:GO.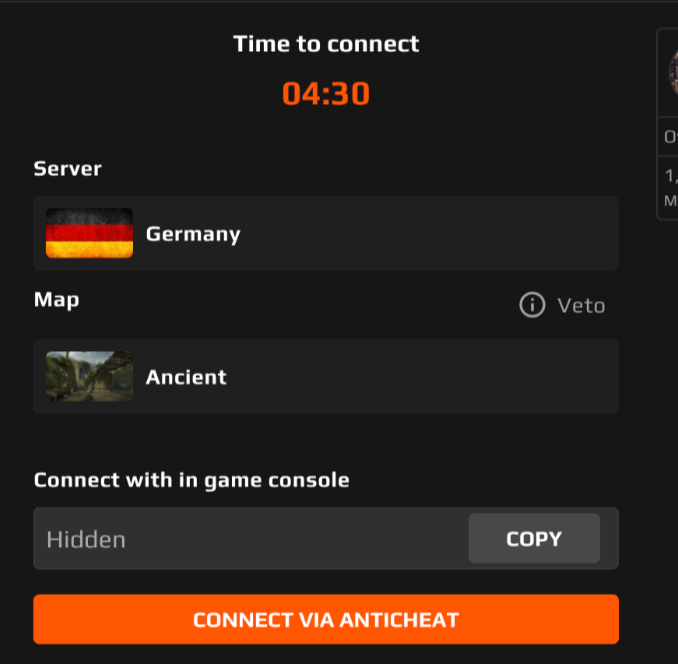 If I am a new player to Counter-Strike can I play FACEIT? 
Newcomers to Counter-Strike are indeed welcome to play. We provide a competitive environment for Counter-Strike matches. However, it is important to be aware that FACEIT is characterized by a notably competitive player base, composed of individuals with considerable experience and skill. Consequently, if you've never played CS and in particular an FPS, you might encounter challenges upon initial matches. Our platform closely aligns with that of high-level competitive play. Although the initial stages might be challenging, it's important to understand that you can become proficient over time through consistent practice.
How do I play with my friends who are below my level?
Even though we are introducing party Elo restrictions in the Premium queue, this is still a wide range ( as we continue to work on this feature). You are still able to play with players within 800 Elo of yourself.
How do I qualify for FPL proving grounds?
After each four-month FACEIT Season, the top 125 players by ELO in each region who are not already in FPL will qualify to be invited into the FPL Proving Grounds.
Who is eligible to play in the FPL Proving Grounds?
Below are the account requirements needed to participate in the FPL Proving Grounds:
Verified accounts only
500+ matches played
Match history will be checked for any suspicious activity, such as boosting and queuing with smurfs.
Minerva Check (to avoid players who are overly toxic)
How do I win prizes in FACEIT Season 1?
By qualifying for FPL Proving Grounds. The top 125 match-making players at the end of the season will be invited to Proving Grounds. This is the finale of FACEIT season one and all future FACEIT seasons.  
How much is the monthly stipend?
Each new addition to FPL will receive a monthly stipend of $1,000 for four months in order to support them and allow them to focus on honing their skills and achieving their goals.
We wanted to do more for the best upcoming players and to truly push the boundaries in the way we enable them to focus on maximizing their chances to improve and find a professional team.
How are players selected for FPL?
At the end of each Proving Grounds event, five players will be voted into FPL. Voting will consist of a weighted score in the following categories: Judges Vote (50%), Community Vote (25%) and Player Vote (25%).
Who are the judges for the proving grounds? 
The judges will be current professional players or former legends who are selected by the FPL Staff prior to the event.
Where can I see the top Challenger Players?
Challenger ranks are visible within the rankings page in the sidebar on FACEIT. Those with Challenger rank will have their badge show in place of the skill level 10 badge in matchrooms and on their profile.
Will there be a last FPL Challenger Qualifier?
Once Counter Strike 2 releases, it will interrupt the current master league and partnered hub leaderboards. The players who hold a spot on the top of these leaderboards along with players in FPL Challenger will play in one last qualifier where the top 5 players earn a direct spot in the first FPL Proving Grounds event. This is the one and only time we're going to do this to ensure a smooth and fair transition for all premium players involved.