ABOUT SERVER LOCATIONS
HOW DO THE SERVER LOCATIONS WORK?
Server picking means that you are selecting the servers you prefer to play on. 
The main purpose of this feature is to allow players to deselect servers they wish to never play on. You will never get matched on servers that you deselected before the queue as they will not appear in your pool of servers to vote on before the match. If this happens, please contact our community support team. 

In the image above, this player will have a 100% guaranteed match on a server either in Germany, France, the UK or the Netherlands. This player will 100% not get a match on a deselected server - in this case: Moscow, Finland and Sweden.

Find out exactly how to choose your server preferences here.
WHICH REGIONS HAVE SERVER SELECTOR TURNED ON
All users in the EU and NA have access to the server selector feature. The servers you can select depend on your region.
We do not currently offer server selection in SA but we are always reviewing our selections and player feedback.
CAN I AVOID A PARTICULAR SERVER?
Yes! All you need to do is deselect the server that you don't want to play on.  
Servers you leave deselected should never appear in your pool of servers to vote on.
HOW MANY SERVERS CAN I AVOID?
Currently, all users can deselect up to 3 servers. This means that you always need to have at least 4 servers actively selected.
WHY DID YOU ADD NEW SERVER LOCATIONS
We would like to stress that EFG is a global company, which supports players in multiple jurisdictions, and builds communities regardless of political boundaries. Before, the EU free queue only offered German servers. While this server location is optimal for many players, it would create a ping disadvantage for many different countries in every corner of Europe.
WHAT IS THE CURRENT SERVER SELECTION POOL IN EUROPE?
Current locations available are:
Finland
France
Germany
Moscow
Netherlands
Sweden
UK
HOW IS THE SERVER I PLAY ON DECIDED?
When you choose your preferred servers, the matcher aims to match players based on the same subset of selected servers. The servers you've deselected should never appear in your server voting list. 
The one you actually end up playing on depends on the voting process of your match players in the room before you enter a match.
WILL SELECTING SERVER LOCATIONS AFFECT MY QUEUE TIMES?
Activating specific server preferences might slightly prolong your matchmaking wait times as we prioritize finding matches that match your chosen criteria. Nevertheless, we work to strike a balance, ensuring reasonable queue times while honouring your preferences.
I am concerned about data sharing and the MOSCOW server. How does this work?
Firstly, we are sympathetic regarding the situation in Ukraine. Regarding the Moscow server, it works as follows:
Players are provided with the possibility to select a game server before queueing for matchmaking;

For all players in the European CS2 game region, the following preselection is enabled by default:

Germany, France, the UK and the Netherlands;

If a player wants to play in Moscow, they will need to choose that game server;

Data stored on servers outside of Russia and network data is never shared with the Russian game server nor with the Russian Company operating them nor with Russian authorities.
Our server provider doesn't have access to the network on the game server and thus they do not have access to any data nor do we share with them anything.
CUSTOMIZING SERVER SELECTION
HOW DO I SELECT MY PREFERRED SERVERS?
Press the icon to the right of the map images to edit your server selection. 
This will then bring up the different server locations available to you, this may vary depending on your location. To choose your preferred locations, you will need to tick or untick the corresponding boxes.
WHAT LOCATIONS CAN I PICK A SERVER FROM?
For the EU, the current server locations available are Finland, France, Germany, Moscow, Netherlands, Sweden, and the UK.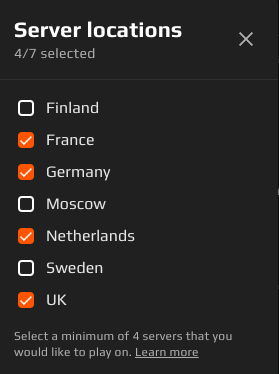 HOW MANY SERVERS DO I NEED TO HAVE SELECTED?
Players need to select at least four preferred server locations to optimize their ping prior to starting a match.
HOW CAN I CUSTOMIZE MY PREFERENCE FOR SERVERS?
On the lobby screen, click the icon beside the map images to access server options.
A list of available servers will be displayed.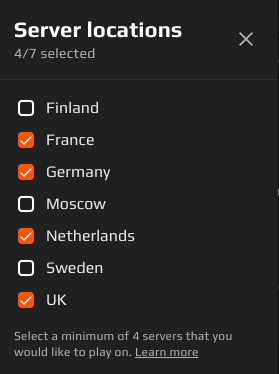 Checking a server indicates that you would LIKE to play on this server. In the screenshot above, all servers are selected. Which means the user doesn't mind which server they get.
However,  if you do not wish to play on a particular server, you should make sure it is deselected. For example, if you uncheck the three as seen below, you'll only match with servers in France, Germany, the UK, or the Netherlands. Moscow, Finland and Sweden will not feature in the rotation for you in matchmaking.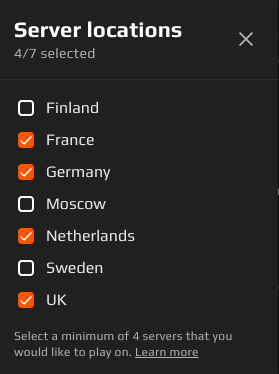 Ensure you select at least four server locations to avoid the error message 'Please select at least 4 server locations;
When you've finalized your choices, close the menu with the X and click 'Play'.