My verification failed, why?
There are a number of reasons a verification might fail. Please ensure the following when you retry:
The country that you chose during the verification process matches the country that issued your document

You're over the age of 18

You aren't wearing glasses when taking a selfie

When you are trying to scan the original document -

Do not take the scan through a screen

Do not use a photocopy

Do not take a picture of a picture

Make sure your identity document isn't expired

You don't already have a verified account as you can only verify ONE account

Check your lighting is good enough for a clear photograph
I tried to verify and receive a 503 error, what is this and what should I do?
We have been receiving a high volume of verification requests, which may result in longer processing times or errors in some cases. We have been actively collaborating with our partner to address the issue. If you receive this issue, please wait 10 minutes and retry the process.
Why do I only have the passport option for my country (e.g. Brazil)?/ Why can't I use my driver's license to verify in my country?
At this time, each country has default documents available. We will look into adding additional options in the next few weeks but it depends on what Daon allows on a country-by-country basis. Every country has different requirements regarding what information is available on each document; as such, it was not possible to include all options at launch.
What's keeping those smurfs from just asking their mother or friend to ID a new account for them?
Impersonating someone else and using their ID documents is a felony in all countries, so before doing this lightly everyone should think about the consequences and the fact that if this was to happen on our platform, we would need to inform the local authorities and the person would be committing a crime punishable by law.
I tried to verify but it won't let me. Not even with my passport or my driving licence. It says something about selecting your correct country but I don't see that option.
This option is visible just before the document scan and upload process. You need to make sure to select the right country during the Document Capture verification process to ensure it is the same country as the one issuing the document you are verifying with.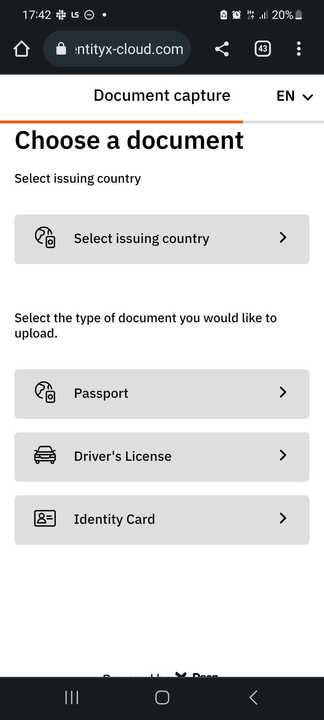 I have a major concern about the 3rd company solution for id verification. Is it dsvgo compatible?
We are fully aware of Data Privacy concerns and the importance of GDPR. Daon takes these considerations very seriously and conducts external audits, which include SOC 2, Type 2 with HIPAA/HITEC, ISO 27701 and ISO 27018. They also conduct several internal audits to ensure compliance with their systems. If you have ever flown with British Airways, American Airlines or Iberia and used their Verify app, which is powered by Daon.
I tried to do it via Opera and it gave me an error (have to use Chrome). Now I am stuck in the process and can't even upload anything.
Unfortunately, Opera is not supported by Daon on some phone models - they are working on fixing this. However, in this case, please wait for 10 minutes until the current verification attempts expire and try again.
Can I verify my account if I'm under 18 but have a valid ID??
Verification is currently only available to players over 18. We intend to open the range up further in the coming weeks.