When your Windows operating system experiences an unrecoverable error, the operating system will usually crash leading to a blue screen similar to the image below:
A blue screen is usually accompanied by information detailing the crash.  System crashes can have several causes including:
Failing hardware
Overclocking
Faulty software
Overheating
Incorrect system memory timings
Unfortunately blue screen error messages do not provide sufficient information to diagnose the cause of the crash. To help troubleshooting, you can try the steps below.
RAM and hardware issues
Firstly, test your RAM with memtest86+. Running this program will allow us to make sure the blue screens are not caused by faulty RAM modules or other hardware issues, which are the most common causes. It is generally recommended to leave the program overnight as it may need multiple hours to find errors.
Overclocking
If your PC is overclocked, please try to disable it temporarily to check if this might be caused by an unstable overclock.
Rootkit infections
Blue screens can in some rare cases be caused by a rootkit infection conflicting with the Anti-cheat. Make sure to scan your PC with anti-rootkit software such as Malwarebytes Anti-Rootkit.
I cannot start my PC, what can I do?
If the blue screen is preventing your system from starting, please go in safe mode (Troubleshoot -> Advanced Options -> Startup Settings -> Restart and then press 4). After you are in safe mode, go to C:/Program Files/FACEIT AC and delete FACEIT.sys.
If safe mode does not work, it is possible that is it not a regular blue screen but that FACEIT.sys is corrupted, so Windows is unable to load it. In that case, please try the following:
1) Troubleshoot -> Advanced Options -> Command Prompt
2) Then type the following commands (replace C: by the drive where Windows is installed)
C:
cd "C:\Program Files\FACEIT AC"
del FACEIT.sys
Restart your computer and it should start again without any issues.
None of the above solved my issue
If you are experiencing repeated system crashes that lead to a blue screen and none of these solutions work, please open a support ticket. In the ticket, you will be asked to provide a dmp file to help our engineering team investigate your issue.
How to get a crash dump file from a Windows blue screen
To help our team resolve the issue, you will need to provide a Minidump. 
By default, Windows will create a small minidump after a blue screen.  The file will be saved in the directory below:  C:\Windows\Minidump\######-#####-##.dmp Look for the minidump file with the most recent modified date.  
In most cases, you might also be asked to provide a complete memory dump. This includes most of the information and therefore, it is the most valuable in helping our engineers understand the issue.
Complete memory dumps should now be enabled by default on your operating system and should be created automatically if there is enough disk space. You can locate your complete memory dump in this folder: 
C:/Windows/MEMORY.dmp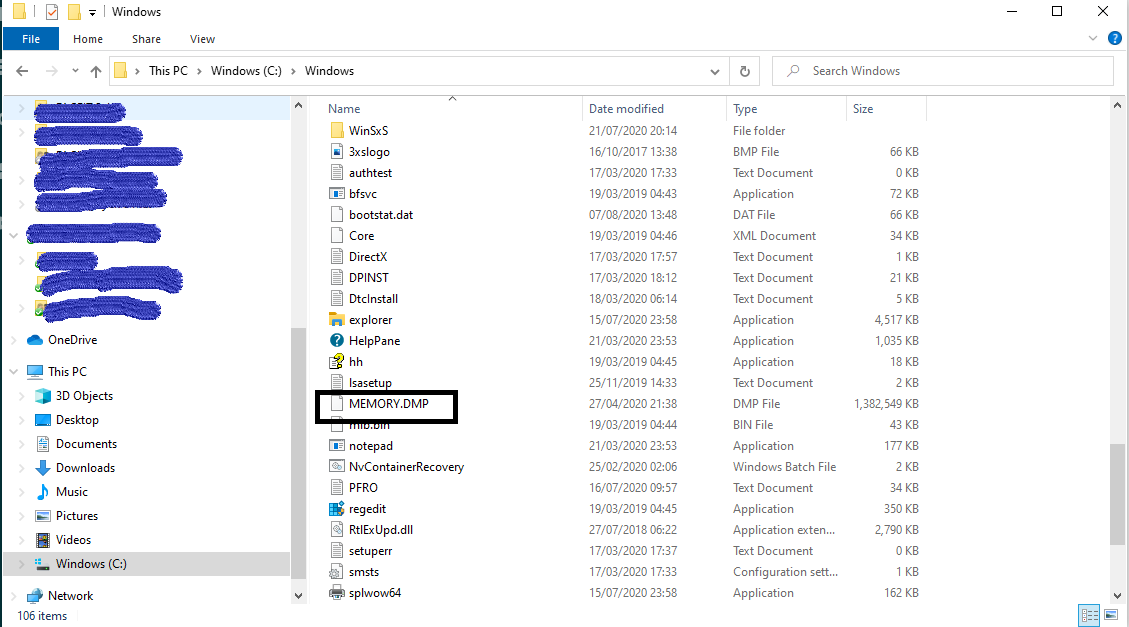 A small 
Minidmp
file can be attached directly to your support ticket as the file size is quite small. A
Complete memory dump
file is quite large in size and therefore it needs to be compressed:     
1. Right-click over the file you wish to compress
2. In the context pop-up menu, select
Send to
->
Compressed (zipped) folder
3. The compressed file will have the same name as file you selected.
To share the complete memory dump with our support agent, please choose a file sharing service like
Google Drive
,
Microsoft OneDrive
,
Dropbox
, and upload the compressed dump file.  Once the upload is completed, you may share the download link with our support agent.