SUNDAY CUPS - FAQ and HOW-TO
Find everything you need to know about our $2000 Sunday Cups and how to play them in this step-by-step guide!
HOW DO SUNDAY CUPS WORK?
The Sunday Cups are played in a round-based bracket. Each round consists of multiple matches which in turn contain up to 16 teams.
In order to advance from one round to the next, teams play three (3) individual games, earning points for placements and kills. After three games, the top teams are determined based on their overall score. Find the full ruleset here.
HOW DO I EARN POINTS?
Teams earn points for their placement in a game, with an additional 16 points per kill.
OVERALL SCORE
Teams earn points for each kill and based on their placement per game. Each kill counts as 16 points. Find the full breakdown of placement points below.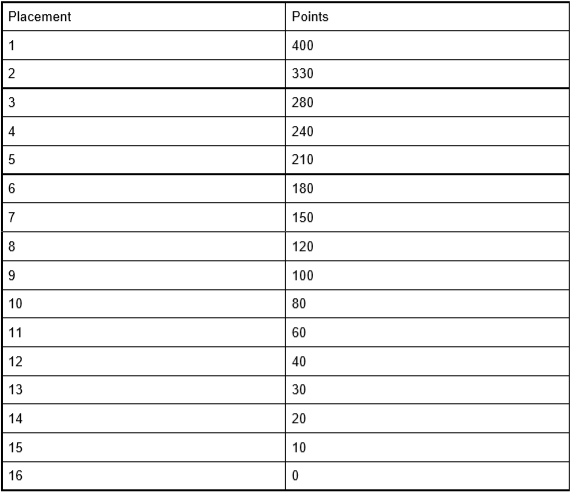 STEP 1) SIGNING UP
On the Sunday Cup page for your region, hit the "JOIN TOURNAMENT" button to join with your existing team on FACEIT. Don't have one yet? Click this link to create a team.

Once you have signed up, the page will display a countdown timer to inform you when check-ins open.
STEP 2) CHECKING IN
Checking in is a necessary requirement in order to participate in our tournaments. It ensures only those teams that are ready and able to play actually participate and reduces the amount of AFK teams that would otherwise ruin your experience.
In addition to that, teams that want to participate in an already full tournament may have a second chance at getting a slot during the check-in period, if another team does not check in.

Check-ins open one (1) hour before the scheduled start of Round 1. The initial check-in period lasts 30 minutes, after which teams that have not checked in lose their spot. Be sure to have your team captain around to confirm your participation!
At 30 minutes until start of the tournament, teams may complete signup & check-ins in one step, if there are still slots left.
After checking in, a timer will tell you when your first match is scheduled to start.
Please note: During all stages after signing up, checking in and until the tournament goes live, you have the option to sign out by clicking the "LEAVE TOURNAMENT" button.
STEP 3) PLAYING YOUR MATCH
After successfully checking in, please await for the tournament to go live and your matches to be created by the FACEIT platform. Once your lobbies are available, hit the "GO TO MATCHROOM" button.


In the Matchroom, copy the "PRIVATE LOBBY" name and password and use it to join a CUSTOM MATCH in PUBG.
You have 10 minutes to join the lobby. Teams that do not join in time will not be able to participate in that specific match.
Once the lobby is full or the join timer has run down, the game will start!
STEP 4) AFTER YOUR MATCH
When your game is over, the FACEIT platform will automatically fetch results and populate the leaderboard with your Kills, Placement and Overall Points.
This could take up to 10 minutes, so please be patient.
Once the results are in, your second game of the round will become available. Join it via the Private Lobby name and password, as you did for the first match.
You will receive a popup notifying you when your next game is ready.
STEP 5) AFTER THE ROUND
One round in the Sunday Cup consists of a Best-of-Three (BO3) series of games. After all three games of a round have been played out, the top teams per match advance to the next round.

Teams above the orange line will be advanced to the next round automatically which may be the Top 4 or Top 8 teams, depending on the format and round.
Once a round concludes, assuming it was not the final round, you will receive your following Match as soon as it's available, and STEP 4) is repeated.
We hope this helps you with your questions concerning the Sunday Cups. If you have any further questions or feedback, please join our PUBG Community on Discord - we're happy to help :-)
 If you still require help click below to contact us directly by email