How to Sync Seasonal Rank to Elo
Seasonal Rank to Elo sync
The system is based off of your DOTA 2 Seasonal Rank (previously MMR). You should only be performing this feature on initial creation of your account to properly rank your FACEIT account according to your in game Dota Seasonal Rank.
Your season rank is taken from OpenDota after you've calibrated it within game. If you do not have a seasonal rank, your Elo will not be updated at all, it will only updated after you have completed your calibration games and received a rank.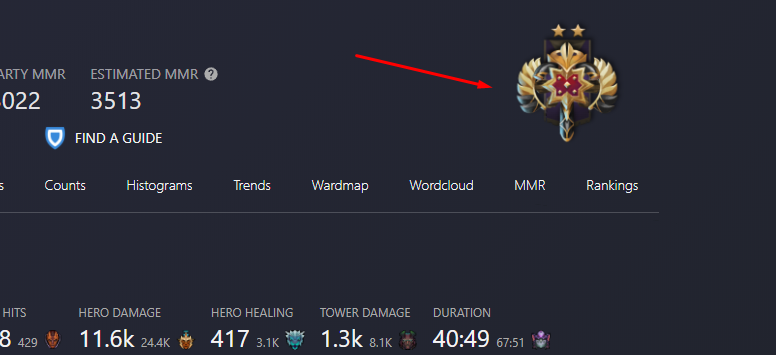 The system should only be used once and after it's use your level or Elo cannot be reverted to the original level or Elo. Meaning if your current rank on your profile is higher then your Seasonal rank you will be lowering your Elo. This is an abuse and is a bannable offence.
If you have already created a FACEIT profile and wish to use this feature, please go to "Settings" and then "Game Settings".

From here, scroll down to the DOTA 2 section and click "Update Game Profile".

After this, you're good to go and your Elo/Level has been synced according to your MMR! Remember you should only do this once.
If you still require help click below to contact us directly by email
Listed below is the MMR to Level conversion:
| | |
| --- | --- |
| Level | Herald 0 - Guardian 1 |
| Level | Guardian 2 - Guardian 5 |
| Level | Crusader 0 - Crusader 4 |
| Level | Crusader 5 - Archon 4 |
| Level | Archon 5 - Legend 3 |
| Level | Legend 4 - Ancient 0 |
| Level | Ancient 1 - Ancient 3 |
| Level | Ancient 4 - Divine 0 |
| Level | Divine 1 - Divine 3 |
| Level | Divine 4 - Divine 5+ |
Listed below is the MMR to Elo conversion:
Conversions
| | |
| --- | --- |
| Divine 6 | 2201 |
| Divine 5 | 2101 |
| Divine 4 | 2001 |
| Divine 3 | 1951 |
| Divine 2 | 1901 |
| Divine 1 | 1851 |
| Divine 0 | 1801 |
| Ancient 5 | 1751 |
| Ancient 4 | 1701 |
| Ancient 3 | 1651 |
| Ancient 2 | 1601 |
| Ancient 1 | 1551 |
| Ancient 0 | 1501 |
| Legend 5 | 1451 |
| Legend 4 | 1401 |
| Legend 3 | 1371 |
| Legend 2 | 1341 |
| Legend 1 | 1311 |
| Legend 0 | 1281 |
| Archon 5 | 1251 |
| Archon 4 | 1226 |
| Archon 3 | 1201 |
| Archon 2 | 1176 |
| Archon 1 | 1151 |
| Archon 0 | 1126 |
| Crusader 5 | 1101 |
| Crusader 4 | 1071 |
| Crusader 3 | 1041 |
| Crusader 2 | 1001 |
| Crusader 1 | 981 |
| Crusader 0 | 951 |
| Guardian 5 | 921 |
| Guardian 4 | 881 |
| Guardian 3 | 841 |
| Guardian 2 | 801 |
| Guardian 1 | 701 |
| Guardian 0 | 601 |
| Herald 5 | 501 |
| Herald 4 | 401 |
| Herald 3 | 301 |
| Herald 2 | 201 |
| Herald 1 | 101 |
| Herald 0 | 0 |