How to sign up for a tournament?
How to sign up for a Tournament
Tournaments for Rocket League can be found from the game's page under the Tournaments tab.
Once you are on the Tournament page, there are three ways to enter:
With Party - A party is a temporary group that can be made by clicking 'Create Party' from the left navigation bar. You can then invite another player to join your party and sign up for the tournament.
With Team - A team is a more permanent group that can be made by clicking 'Create Team' from the right social bar. You can then invite other players to join your team and sign up for the tournament. Once you click 'With Team' you will be able to select your Roster from your other team members.
As Solo - As Solo means to sign up on your own and you will be matched with another solo player once the tournament begins. The system will automatically create a team from all solo players attempting to join the tournament. Please note: Solo players can only join an event when the check-in phase begins and there must be open slots in the event to do so.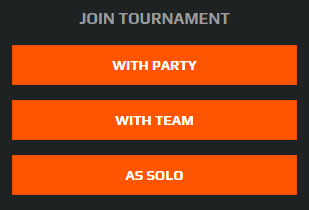 Once you have reserved a slot for your party or your team, take a look at the 'Check-In Start' time and date. The Check-In time differs from the Tournament Start time. Teams, and parties will need to go back to the tournament page during this time and Check-In to the tournament.
If a team, or party fails to check-in, they will not be able to take part in the tournament.
Please note:
Once you have signed up to a tournament, you cannot change the roster without having to leave the tournament first. In addition, if you're signed in a team or with a party, only the Team Captain may 'Check-In' the team.
If a team does not check-in prior to 30 minutes before the event starts your team will be removed from the event to allow other teams a chance to join and play.
If you still require help click below to contact us directly by email